We're proceeding in our efforts to bring all our games cross-platform. Three of them are now available on the Mac OS X App Store:
and Five A Day is here.
The games are playable in a window using either keyboard controls or a USB joypad such as the Xbox 360 one (using the appropriate driver). If you are using OS X Lion or later then Lion fullscreen mode is supported along with trackpad control. Users are saying that playing these games in fullscreen with the Magic Trackpad is really excellent, better even than on the iPad.
We did get a bit excited when shortly after release the OS X version of Gridrunner got featured on the front page of New and Noteworthy and for a day or so actually got into the top 10. However at the moment the OS X app store is nothing like as popular as the iOS one, so what would have been a fantastic thing on iOS actually didn't amount to anything much on OS X. Oh well. Still it was nice to get featured and it can't hurt to have had a bit of prominence on the OS X app store for a bit.
In other cross platform news, Giles has completed porting our game engine to Android. Here he is showing off Gridrunner on a Nexus 7.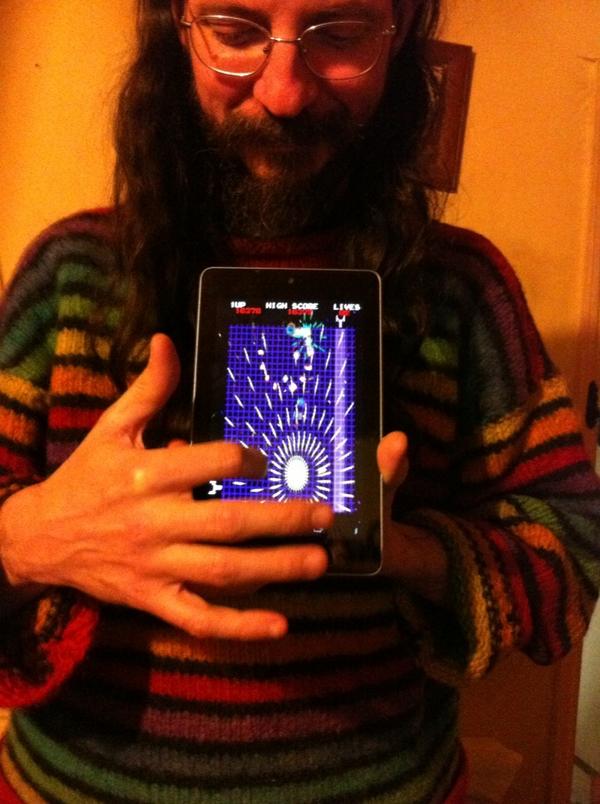 And in the space of a couple of days he also ported Super Ox Wars, Five A Day, Goatup and Caverns of Minos. (That's the nice thing about our engine, once you get it ported the games just basically fall out quickly. Of course there's a bit more work to be done on each game before we can release them properly – the Llamasoft online leaderboards have to be set up and coded in, and the games modified so as to be "standard shareware" style, with a truncated "demo" version upgradable to the full version with an IAP. We pretty much need to do it that way on Android, given that it's such a fragmented market with all kinds of machines with all kinds of different spec out there; we want people to be able to assure themselves that the games run fine on their hardware before they pay anything for the full version).
So there will be a short delay while that stuff gets put into the Android framework, then we'll be releasing those games in quick order.
And now of course anything new will appear on iOS, Mac OS X and Android more or less simultaneously.
We're going to be at PLAY Expo in Manchester next weekend, so if you want to check out the Llamasoft games on iOS, OS X or Android we'll be there with the games on all three platforms for you to play. We'll also have some old retro machines there for old times' sake
.